It has been a real privilege to read the poetry of everyone who submitted to our open call, and this has been a summer coloured by the fantastic entries we received in our inbox. First of all, we would like to take a moment to thank every Poet that took the time to enter. I personally have found some of my new favourite poets, many of whom were rejected simply because I have to be conscious of the amount of work I take on now due to my newly diagnosed chronic illness. However many poets are now on my radar to approach in the future, and whose journeys I will be interested in over the next year or so!
Without any further ado, I am delighted to announce Fawn Press' next wave of poets for 2022/2023 releases!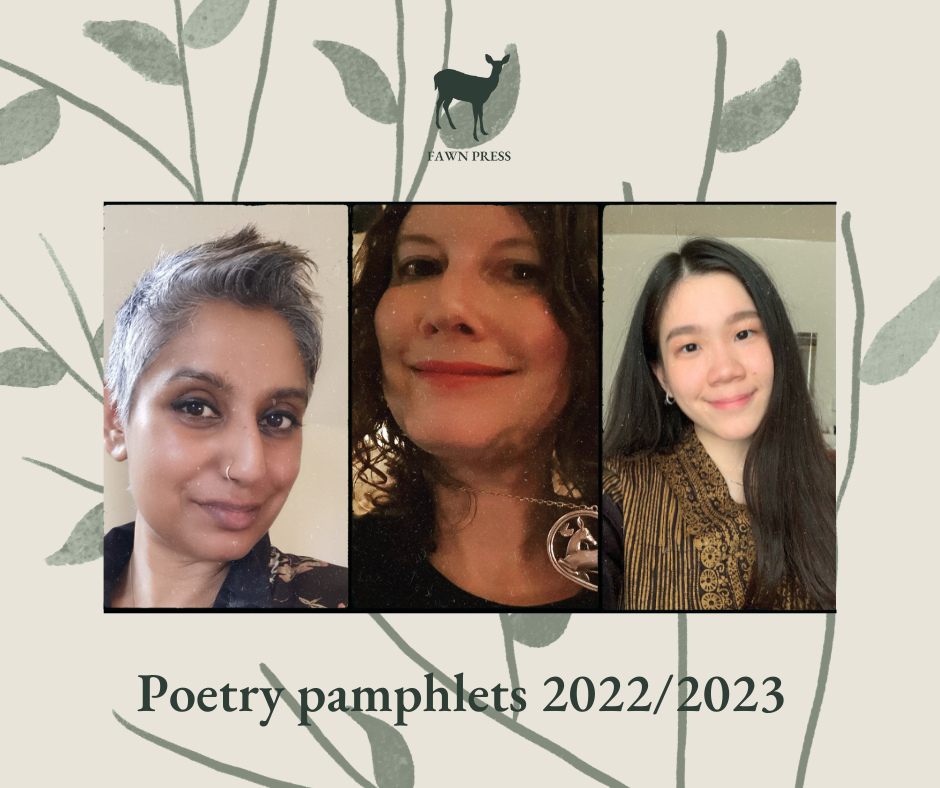 We are delighted to welcome Devjani Bodepudi, Kate Millington, and Christiana Jasutan to our lineup of pamphlet poets!
More details will be announced about the release dates, but the pamphlets will be released over Winter 2022 through to Summer 2023.
Be sure to follow our poets and congratulate them!
FAQs
Why so few chosen?
I was diagnosed with Multiple Sclerosis this year, an incurable and progressive disease that attacks my brain. I would rather take my time with a few poets and ensure that every single release is absolutely perfect than take on too much and risk imperfections. At this time Fawn Press is unfunded and so everything I do, I do myself. Selecting only a few poets also allows each release to be marketed well, and supported to its full potential.
When will you get back to us about feedback reports?
Fawn Press received around 30 feedback requests, a fantastic response to the submissions window, and a task that I am carefully and methodically making my way through. All feedback reports will be sent by the end of September. Thank you for your patience.
Why did you only want pamphlets?
I am personally not aware of other another press in the Midlands that only releases pamphlets. Sometimes writers can feel pressured to release a collection too early rather than explore the pamphlet, considering it not to be 'a real book'. Fawn Press is proud to champion the pamphlet as an art form, nurturing the writer's journey to find their own voice.
Why did you charge submission fees?
Fawn Press is currently unfunded, and so we rely on submission fees to pay for our editing and reading time. We charged less than an hour's minimum wage per entry, and we hope that you will agree that fair pay for creatives is the only way to safeguard the health of the community. We always make an unlimited free submission option, offered with no questions asked, and you can find out more details about submission fee transparency here.
Do you pay your pamphlet poets?
Absolutely. Offering a fair royalties contract is one of the founding principles upon which I built Fawn Press.
How can I support?
Consider purchasing a yearly subscription to ensure that you get all of these pamphlets delivered to you as they are released!
If you have any other questions, please don't hesitate to get in touch!