You may have seen across our Instagram, that at the end of our captions we include a short paragraph prefaced "image description" which then goes on to describe details of the picture we have just posted. We would like to answer any questions you may have about this process, and encourage everyone to do the same.
What are image descriptions, and why are they so important?
Adding an image description is a very simple and easy way to ensure that your content is more accessible. It isn't just limited to the caption either: adding alt text across Instagram, Facebook and Twitter helps make your content inclusive to all. On Instagram, you can tap "edit" and then find the "add alt text" option appears on the image frame. On Twitter you can tap "edit" when you upload an image and "add alt text" from there, and on Facebook hover over the image and the "edit alt text" option will appear.
How do Alt Text and Image Descriptions help people with vision impairments?
People who have vision impairments such as partial sight or blindness may use screen readers to access the internet and apps, and including alt text and image descriptions in your content can help make your content accessible and engaging, as well as providing useful information.
We recently added a post to our Instagram story to ask whether those using screen reading programs preferred "ID" or "Image Description" and of all the voters, 100% of them voted that spelling the words out "image description" was more accessible.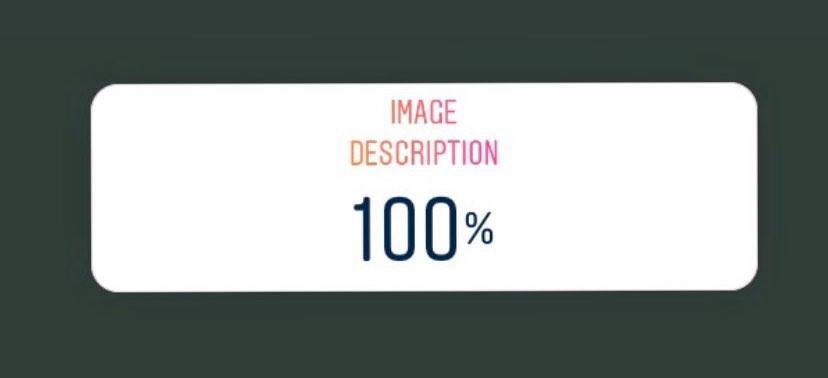 What is the difference between ALT text and Image description?
Alt text tells people what is in an image, such as text or basic details. Image description is much more descriptive. Perkins Learning tells us that "Alt text tells someone that there's a puddle on the floor, and image description tells someone that the puddle on the floor is in the middle of the floor and it's orange juice."
What makes a good image description?
-Descriptions should be clear and concise, try to stay below 200 characters to remain compatible with many screen readers, and avoid a frustratingly long wait.
-If a face is visible, explain the expression, for example "a boy with black hair is laughing at the sky with his eyes closed"
-Include colours of objects
-Include placement of text and objects eg "in the foreground/in the background"
Fawn Press is dedicated to applying practices which make poetry more accessible for everyone. As part of our plan to put our dedication into practice, we will be live-streaming all of our poetry events, we have hired a BSL interpreter, and we will only ever host events at wheelchair accessible venues. We are always looking to be better. These are very basic actions which form part of our pledge to tackle ablism where we can.
Here is a list of great resources to help expand your knowledge of Alt Test and Image Descriptions:
https://www.perkinselearning.org/technology/blog/how-write-alt-text-and-image-descriptions-visually-impaired
https://diversityandability.com/resource/image-descriptions/#:~:text=Adding%20image%20descriptions%20to%20your%20social%20media%20posts%20is%20a,accessible%20to%20your%20entire%20audience.
https://www.rnib.org.uk/rnibconnect/technology/making-your-social-media-accessible
If you have any comments or questions, or perhaps have suggestions, we are always more than happy to hear your feedback. Do not hesitate to drop a reply in the comments below, or email us at info@fawnpress.co.uk